Eastern Sierra Weekend
Photography Road Trip Guide
A photographer's dream
About the author: Peter Carey (@peteracarey) is a professional photographer and avid outdoorsman. He has spent the past 13 years traveling Highway 395 and in that time has lived in multiple locations along the Eastern Sierra. In addition to photography, Peter enjoys hiking, backpacking, climbing, and mountaineering in the Eastern Sierra.
Chances are you've seen pictures from spots in the Eastern Sierra and had no idea they were in California. When someone says California, the mind tends to conjure images of endless beaches with palm trees, or maybe star-studded sidewalks and high-end shopping. I bet the HOLLYWOOD sign is in there somewhere too.
What doesn't usually make its way into a photo trip or the imagination of most people is the tallest mountain in the contiguous United States (it's Mount Whitney at 14,506 feet) or the hundreds of miles of rugged mountain wilderness within which that mountain is contained. By now, chances are you are intrigued and ready to hop in your vehicle and take a road trip!
While the west side of the Sierra Nevada has some excellent places, there is something awe-inspiring about the steep escarpment of the Eastern Sierra and the highway that parallels it, Highway 395. Many of the spots in this area are a photographer's dream and can easily be visited in a one weekend Eastern Sierra road trip! And I bet after making one road trip, you'll be coming back in all different seasons for years to come. Follow along with me up and down Highway 395 as I make my way through my list of must-stop photo spots!
Packing and Preparation
Try and start your packing early. If you are leaving on Friday, start getting things together Monday. This way you can collect things throughout the week that you may have forgotten initially, ensuring nothing important gets left behind. No matter what, you can't forget the essentials like camping gear (if you plan on camping), toiletries, and clothes (more on that below).
The major essential for Eastern Sierra photography is your photography gear! You never really know what conditions you might encounter, so bring all your gear (lenses, extra batteries/memory cards, remote shutter, filters, and definitely tripod!)
One thing to think about in advance is what time of year it is and what clothing you might need. Just because it's a beautiful 70°F in San Diego doesn't mean it won't be over 100°F in the Owens Valley (in fact, it probably will be). And just because it is 100°F during the day doesn't mean it won't get chilly at night. Always make sure to check the weather where you plan on going.
Hitting the Road
Many people taking a trip along the Eastern Sierra on Highway 395 are northbound from counties like San Diego, Orange, or Los Angeles. I'm no different. When I get off work on a Friday, I pack up my car and hit the road, making my way to Highway 395 North, and eventually to my first stop: Lone Pine, where I make my way into the geological enigma known as the Alabama Hills.
Disclaimer: some places/roads may be inaccessible during the winter due to snowpack or weather. The remainder of this write-up assumes travel between spring and fall (approximately April/May to October/November). Pay attention to conditions when planning.
ALABAMA HILLS
This place is on most people's hit list for Eastern Sierra photography and is a must stop on the Eastern Sierra road trip! I have been coming to the Alabama Hills for years and am still amazed by the expansive views and juxtaposition of decomposing granite boulders against the jagged peaks of pristine granite that make up the Sierra Nevada. I'm certain there will never be a time when I'm not excited to go there and camp, climb, explore, and/or take pictures. Once you get into Lone Pine, make a left on Whitney Portal Road and drive into the wonderland!
Check the app for full information on the following locations, including: directions, information on where to camp, photography tips, and more!
Movie Flat Rd view of Lone Pine Peak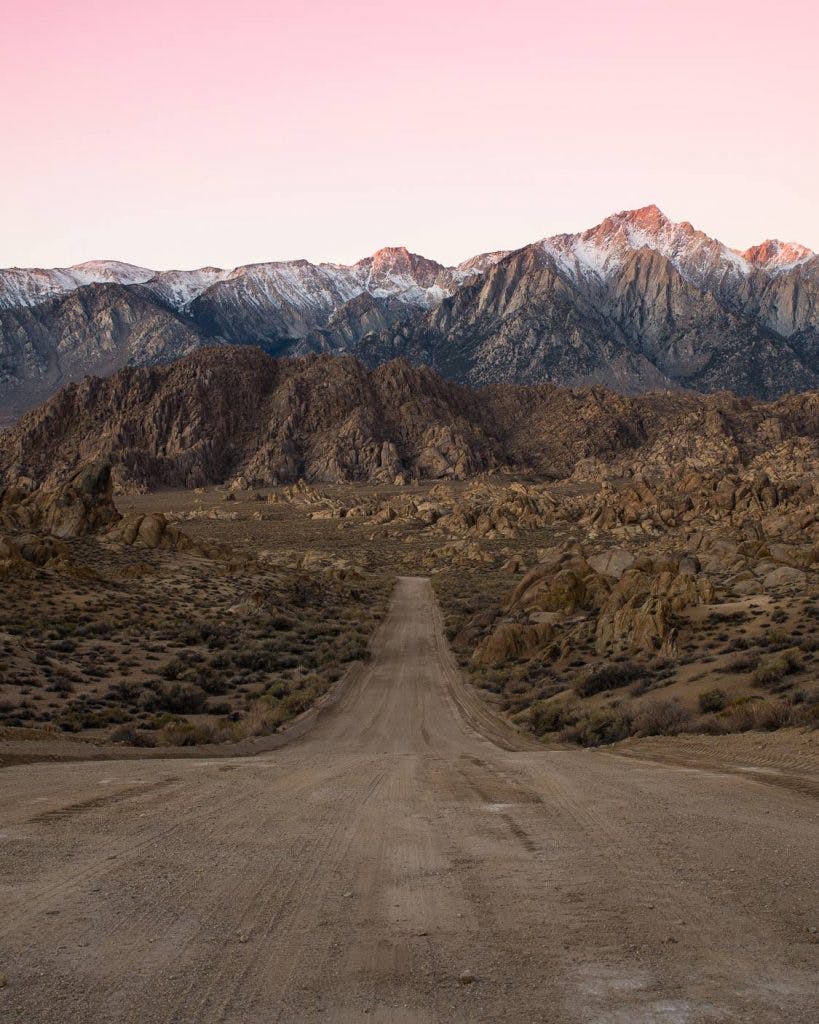 discover this location on the Explorest app
This is personally my favorite place in the Alabama Hills to shoot alpenglow, the rosy light on the mountain peaks prior to direct sunlight, and sunrise, but if you arrive with a little bit of light left in the day, it still isn't a bad spot! The elevated view of the hills with the Sierra backdrop makes an impression any time of day. If you are here in the summer, and it is a new moon, the Milky Way is a sight to see too! Just make sure you get some sleep, morning comes early in summer.
Mobius Arch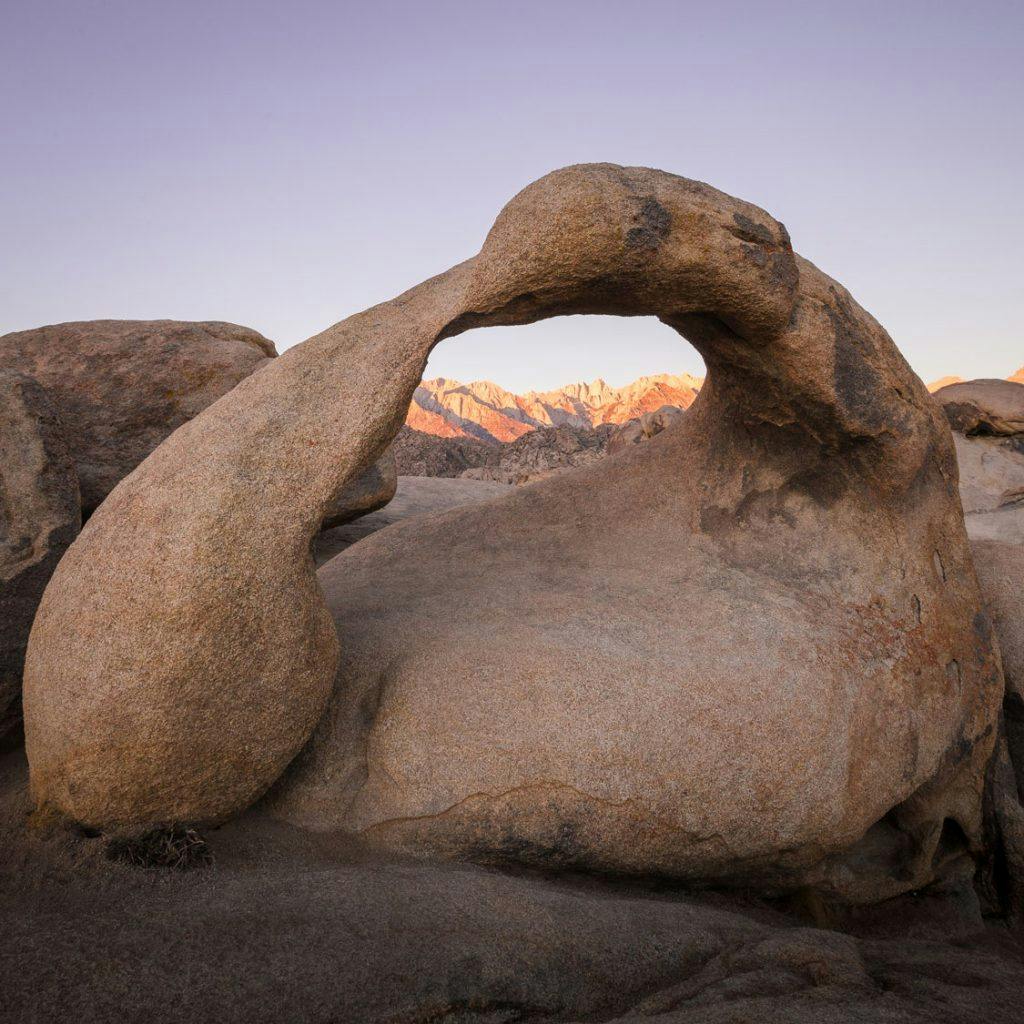 discover this location on the Explorest app
After sunrise at the road shot, head back down Movie Flat Rd to the first sharp turn approximately 2.7 miles from Whitney Portal Rd. Before making that turn, pull into the big dirt lot on the right. This is the parking area for Mobius Arch. Grab your gear and head for the marked trail head, it's an easy quarter mile to the arch so don't worry about the heavy gear.
This spot is also excellent for sunrise (and next road trip it would be a great place to catch Alpenglow), but one of the benefits of saving it for the tail end of sunrise is the light is mainly focused on the mountains while the arch is still in the shadows, creating an excellent contrasting scene. Another major benefit is that the sunrise crowds have mostly dissipated by this point! For this location, one must arrive well before sunrise to get a good spot on the weekends. The shooting gallery isn't that large, so it's the early bird that catches the worm.
What Should I do the Rest of the Day?
You'll need to be at Mono Lake South Tufa before sunset, which means you have the rest of the day to travel about 80 miles and do exciting things nearby!
I usually head back into Lone Pine from the Alabama Hills and grab breakfast. The Alabama Hills Café is a great choice. Too packed? Walk around the corner to the Mt. Whitney Restaurant. Once you have fueled up (yourselves and probably your car), decide how you want to spend your day! Do you want to hike? Do you want to climb? Do you want to skateboard? Do you want to fish? Do you want to tour the Eastern Sierra breweries? Do you want to tour museums? Do you want to do all of the above? Pull up the Explorest App and check the locations on your list for some ideas!
Make sure to keep track of time; you'll want to hit a couple of photo spots before making it to Mono Lake South Tufa. Your next stop on the Eastern Sierra photography road trip is June Lake Loop, about 20 miles north of Mammoth Lakes.
JUNE LAKE LOOP
June Lake Loop (Highway 158) is exactly what it sounds like, a loop that passes through the town of June Lake and connects back to Highway 395 after 16 miles of beautiful lakes, quaking aspens, and towering granite cliffs and peaks. This little loop has plenty of magic! The loop closes in winter so check highway details on Caltans.
Boat Launch View of Silver Lake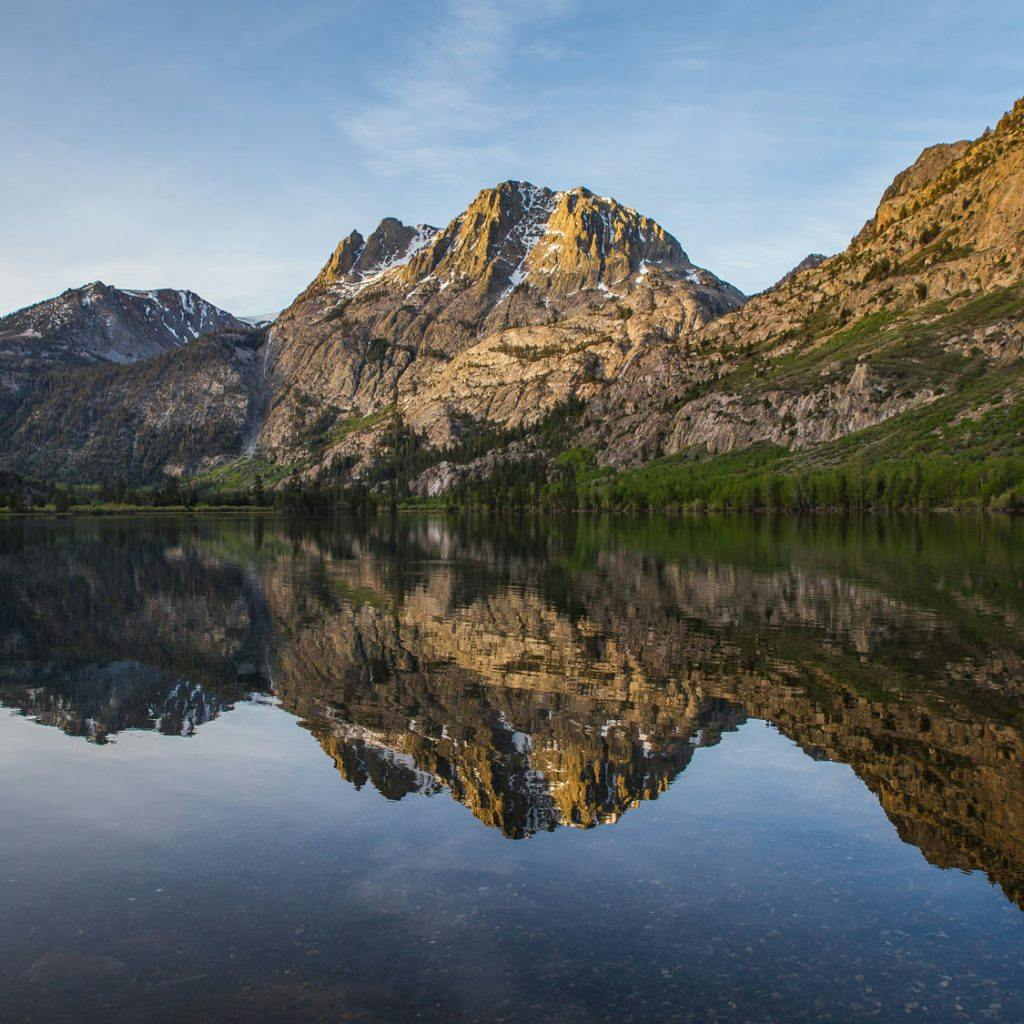 discover this location on the Explorest app
This is a super simple spot to access, but the views are not at all slacking! Plus, during the late spring, summer, and fall there is usually tons going on here so there may be some unexpected surprises to add to the scene! There will probably be fishermen in boats out on the lake and most definitely along the shoreline. You may even have some curious ducks come up to you. If you ask nicely, they may even let you take their picture!
June Lake Loop (Highway 158) – Road Shot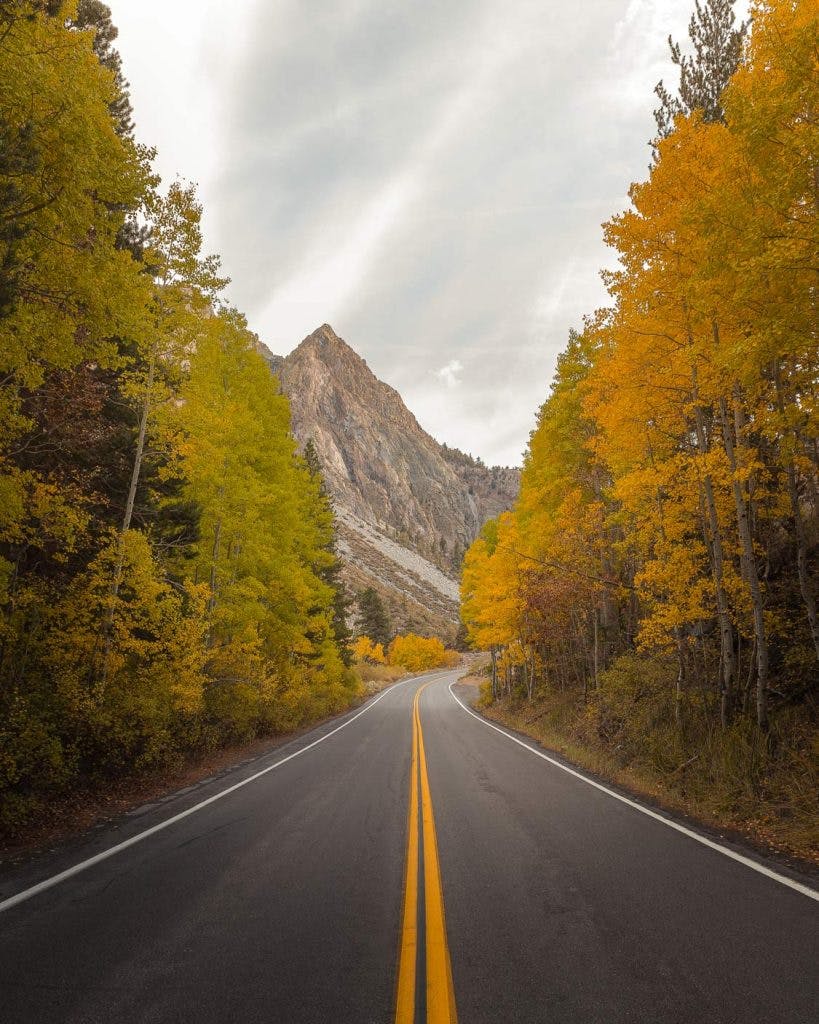 discover this location on the Explorest app
Once you have squeezed the life out of the boat launch location, you'll want to continue along the June Lake Loop. Check out this location in the Explorest app and find the June Lake Loop (Highway 158) spot down the road – it's not too far! You'll want to make sure to have the how to get there description open for this one because the parking area is small and it will sneak up on you!
Due to the visuals, this is a worthwhile spot any time of year, but is certainly best in fall when the aspens are showing their true colors. No matter what, it is worth the stop, I mean, it's on your way out!
Once you have taken all the photos on June Lake Loop that your heart desires, pack up and continue on the loop – your sunset spot awaits!
MONO LAKE SOUTH TUFA VIEW OF ROCK FORMATION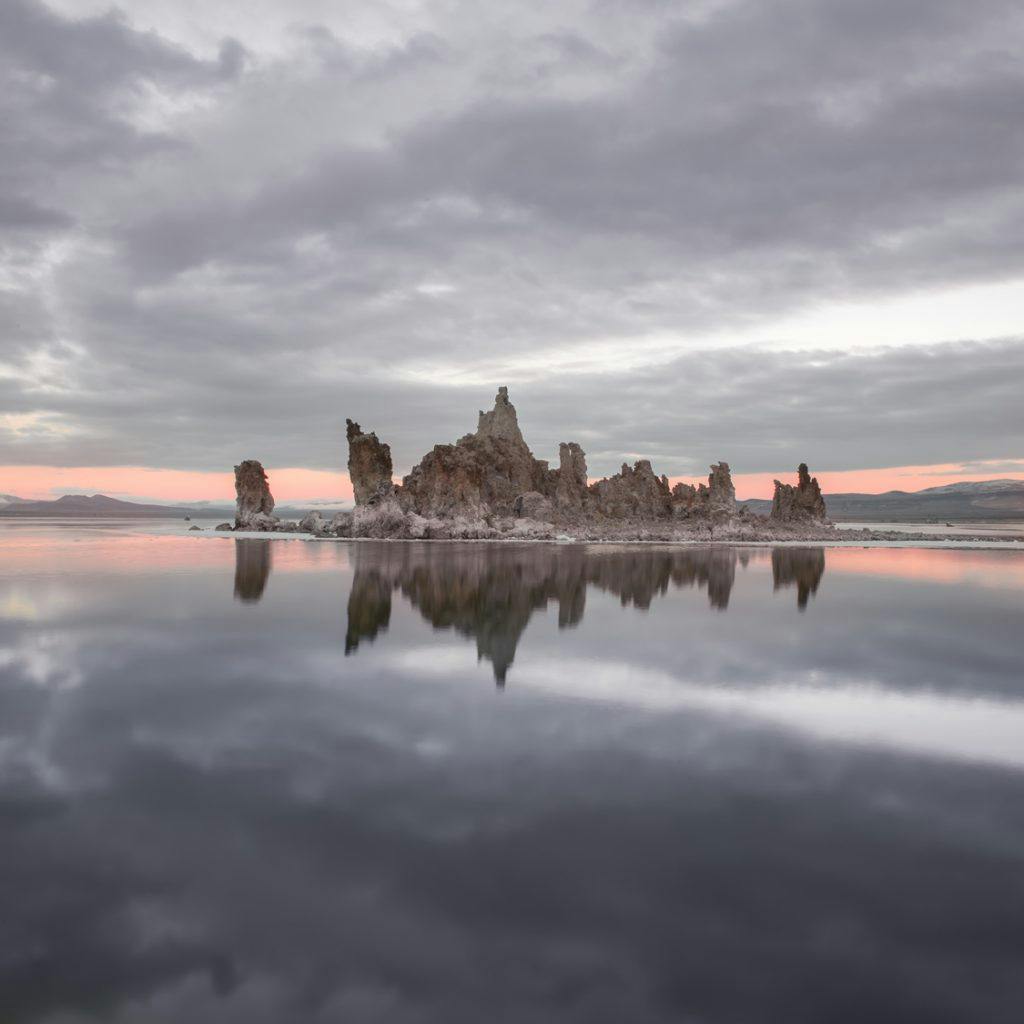 discover this location on the Explorest app
Once you get back to Highway 395 you will be turning right and heading south now, but not for long. You'll make an immediate left across the northbound lane and onto Mono Lake Basin Road/Highway 120. Have your app open to check out exact directions to the spot (you'll also want all the information and tips for the location).
The incredibly unique tufa formations at Mono Lake are well-known, but after living in the area and visiting Mono Lake many times I learned it is an excellent spot for sunset no matter what the sky looks like. Even if there is not a cloud to catch the rays of the sun, the expansive and nearly flat horizon provides an amazing amount of sky for the light to use as a palate, painting a changing gradient of reds, oranges, yellows, pinks, and purples. When the lake is calm, the mirror-like reflection can create a visual that is almost overpowering!
Time to Get Some Sleep
Sunset is over (and hopefully it was a good one) and now it's time to settle into your spot for the night. You'll want to be at or near tomorrow morning's sunrise spot, which is Convict Lake. Convict Lake is about a half an hour drive south of Mono Lake along Highway 395. You'll pass back by June Lake and Mammoth Lakes on your way – which luckily cuts down some of the distance you'll have to drive tomorrow on your way back home.
You've got a couple of camping options, one of which is the Convict Lake Campground. It is $25.00 per night and tends to be packed. Check this website for availability. If there isn't anything available there, another option is free primitive camping across Highway 395 on land managed by the Bureau of Land Management (BLM).
Check out for the night and set your alarms dark and early to catch alpenglow!
CONVICT LAKE
This place is wild! You'll immediately notice how different the mountains look to the granite you've become used to seeing. These mountains are composed of metasedimentary rocks and they are some of the oldest rocks in the Sierra Nevada! Heat, pressure, and time have all had their way with these rocks and that is most evident in the numerous undulating colored layers that make up Laurel Mountain, directly across Convict Lake.
Open up the app for full information on the following locations, including: exact directions, where to park, photography tips, and more!
Rocky Shoreline View of Convict Lake & Laurel Mountain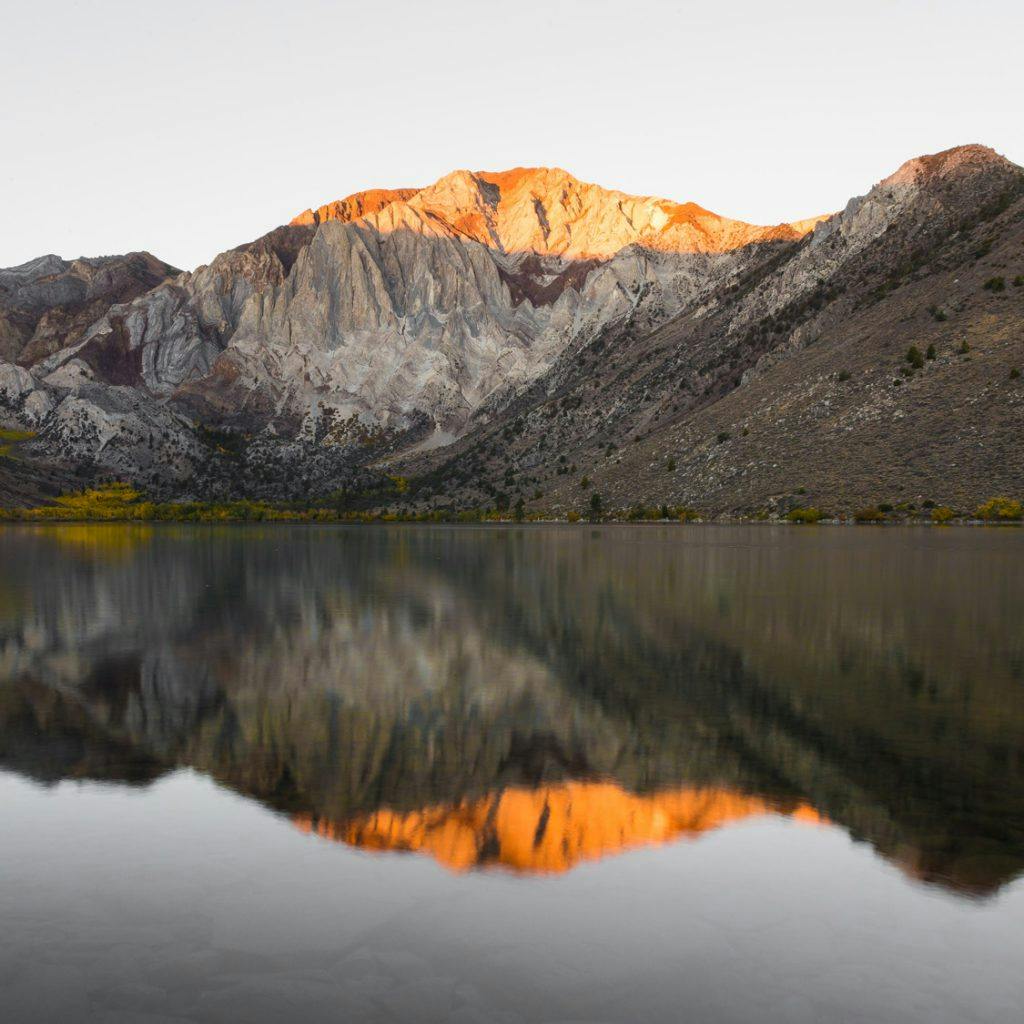 discover this location on the Explorest app
Generally when visitors are greeted with the view from the bridge of the boulders lined up near the lake outlet, they stop and start taking pictures. That's not a bad thing necessarily, but there are plenty of other locations with similar views that aren't as utilized. This location being one of those! This is an easy one to access for the most part – it isn't as common as the outlet bridge and boulder spot, and it provides some excellent views of Laurel Mountain from lake level.
Convict Lake Trail Boardwalk Look Up of Aspen Trees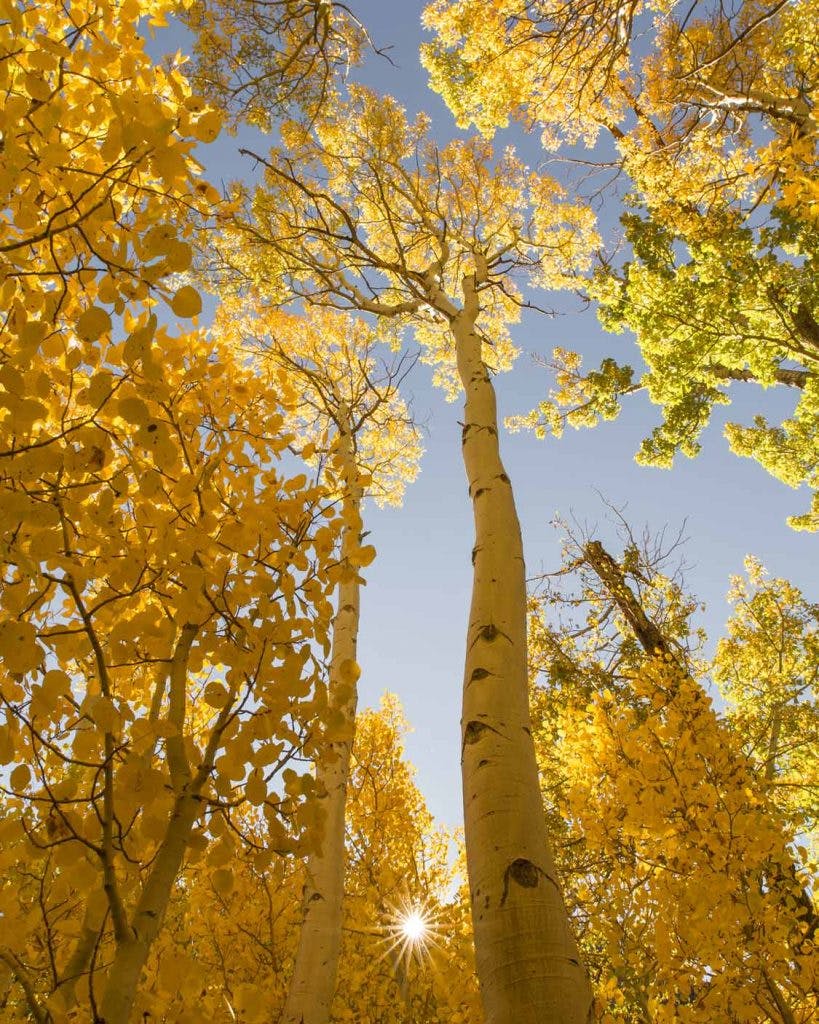 discover this location on the Explorest app
Now that the sun has risen, it's time to get that blood flowing! Make sure you grab an easy breakfast at camp or your car, and then hop on the trail around the lake. The boardwalk at the inlet of the lake surrounded by aspens is an amazing place. In fall when the aspen leaves change color it can seem as if you are viewing the world through a different lens. The light scattering through the golden canopy really creates a palpable ambiance of warmth even on a cold day!
Convict Lake Road view of Mount Morrison and Laurel Mountain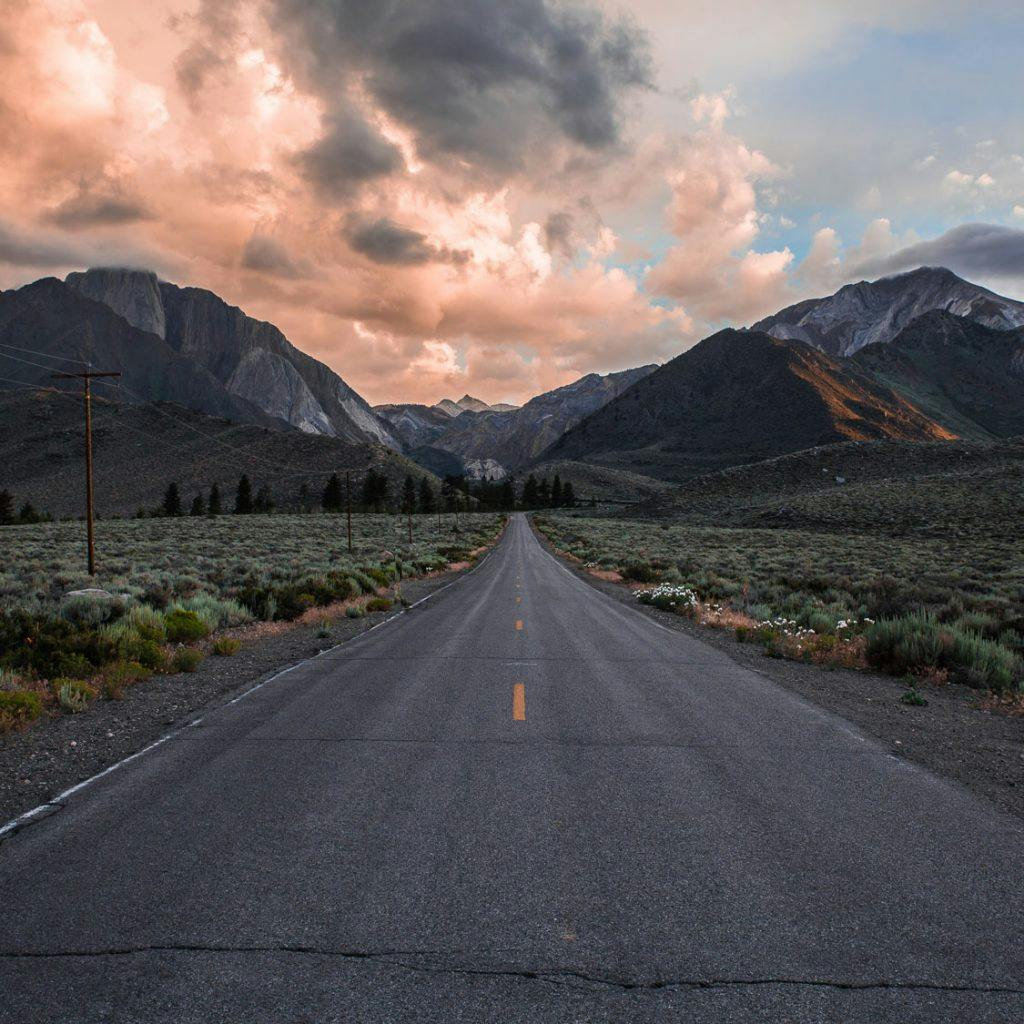 discover this location on the Explorest app
You've packed everything up and are ready to hit the road, but there is one more place to stop and give a last look at the mountains surrounding Convict Lake. I love this location for a few different reasons, not the least of which is its ease. It is the road.
The straight line of the road with the gentle rise toward the mountains is an inviting picture, as if suggesting you should just head back to Convict Lake and spend the day! The towering Mount Morrison on the left and its partner in crime, Mount Laurel, on the right make this the perfect place to say goodbye to these old mountains and welcome the long trip home.
It's Been Fun
I do hope you've enjoyed this Eastern Sierra photography road trip as much as I have and always do. Even the drive home is made enjoyable by looking out over the mountains as you make your way back, sure that you will, hopefully soon, return.
There is much more to see and do on an Eastern Sierra road trip than can be accomplished in one weekend. More spots to photograph, more trails to hike, and more roads to drive. This list is definitely not comprehensive and certainly not final. There are many empty lines waiting to be filled. That is your job on your next road trip. Get out and explore!
Peter's Favorite Gear: